Global and Cross-Strait Networks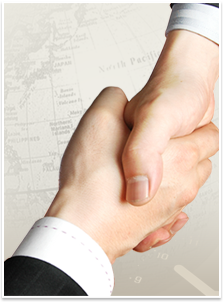 We are highly qualified to serve transnational enterprises. Many of our colleagues have studied in the United Kingdom, the United States, Japan, New Zealand, Australia and other areas and are fluent in English or Japanese and experienced in representing international clients. Furthermore, Lee and Li has forged long-term relationships with renowned law firms in the United States, Europe, Asia and Africa. Our pool of specialists and the international network we have built over time are the key to providing peerless transnational legal services.
We work closely with distinguished international consulting firms, accounting firms and financial institutes and are thus able to integrate specialized resources and promptly provide comprehensive information about financial and investment conditions. In addition, Lee and Li has established a strategic alliance with Leaven & Co., CPAs., which works closely with Lee and Li to provide clients with accounting and auditing services with its outstanding talent, superior service and devotion.
To better cope with the needs of our clients in China, Lee and Li has devoted long-term efforts in providing legal services on both sides of the Taiwan Strait. Valued for our professional ability and familiarity with clients' global strategies, we are sought by an increasing number of clients to assist with the legal issues they encounter in China. Lee and Li provides integrated legal services in the cross-strait area for many clients. Dr. C. V. Chen, Nigel N. T. Li and Chia-Ching Lee are arbitrators of the China International Economic and Trade Arbitration Commission.
Lee and Li has set up platforms to provide cross-strait legal services/intellectual property right services by collaborating with law firms and intellectual property agencies in China. With such two-way collaboration, we provide multinational enterprises, Taiwanese companies and clients in China with the professional services that they need. We have formed alliances with L&L-Leaven, Attorneys-at-Law in Shanghai and Leaven IPR Agency Ltd. in Beijing. Such alliances allow us to render extensive and timely services in the cross-strait area.
Lee and Li has assisted a considerable number of clients on cross-strait matters, including company's disposal of shares in its Chinese subsidiary, a well-known Chinese private equity fund's investment in a Taiwanese company, initial public offerings in Taiwan of companies having entities in China, joint ventures in China by Taiwan and foreign companies and litigation or arbitration in China or elsewhere. The effectiveness of our cross-strait services is widely recognized and trusted by our clients. Such services not only significantly save the clients' time in identifying and contacting suitable lawyers in China but also enable the clients to make investment and operation decisions efficiently and accurately because misunderstanding of the differences in the legal systems and practices across the Strait has been averted. Following the execution of the investment protection agreement between Taiwan and China, Lee and Li and our strategic alliances have successfully assisted a Taiwanese company in dealing with the expropriation of the land owned by its subsidiary in China.
Furthermore, in the summer of 1999, Dr. C. V. Chen proposed to set aside resources to establish the Lee and Li Foundation. Thereafter, Lee and Li has sponsored the Foundation's costs, including the costs for hosting the Lee and Li Moot Court Competitions, the scholarship for cross-strait legal education, the grants for theses, and the Lee and Li Classroom, which are activities actively participated in by students and connecting Lee and Li and the wider public.
The Lee and Li Foundation has been hosting the Lee and Li Moot Court Competition in Taiwan since 2001 and for universities in China in collaboration with the law school of Tsinghua University (Beijing) since 2003. The competition has since become a prestigious moot court event among the law schools on both sides of the Taiwan Strait.