Commitments towards Pro Bono Work
Lee and Li grew as Taiwan's economy ascended. In addition to providing legal services, Lee and Li is also committed to various public interest causes. Our unwavering commitment to pro bono services is driven by passion and compassion. We hope we are making a lasting difference in our society.
Legal Aid
As part of our protection of people's rights, our attorneys actively volunteer for the legal aid services offered by the Bar Association and the Legal Aid Foundation, giving people without sufficient means proper legal protection.
Many of our attorneys have served as members of the Legal Aid Foundation Review Committee and participated in domestic and foreign public interest organizations, such as the Chinese Arbitration Association, Taipei; the Chinese Society of Constitutional Law; and the Asian Domain Names Dispute Resolution Center.
Social Responsibility
To improve society and create a safe and secure living environment, Lee and Li is committed to spreading legal concepts and knowledge in order to actively participate in legal education and promotion of knowledge. We strive to promote respect for laws and rights and compliance with morals and social order, so that legal values are a part of our daily lives.
The training initiatives of the Training Institute for Judges and Prosecutors – Since 2006, Lee and Li has been entrusted by the Ministry of Justice to prepare and implement practical legal courses for judicial officers. Those who enrolled in the training programs have benefitted tremendously.
English translation of the "Interpretations of the Justices of the Constitutional Court" – To present our country's constitutional interpretations to the international community, our firm was entrusted by the Judicial Yuan to translate the "Interpretations of the Justices of the Constitutional Court" into English to share Taiwan's efforts in upholding human rights and democracy and advancing the rule of law.
Collaborations with the Lee and Li Foundation:
‧Lee and Li Collegiate Moot Court Competition - Each year the competition is held in Taiwan and China, and a round table is organized to facilitate deeper discussion between the winning teams from both sides of the Taiwan Strait. Faculty members and experts also provide analysis of the case and discuss moot court training.
‧Lee and Li Legal Publications – These writings represent a distillation of our colleagues' legal experience, their law school lectures, and the latest theories and legal developments.
Improving the Legal System
The law governs the behavior of society members and also serves to maintain social order. To reflect the current values of society, morals and ethics, the law must evolve with the times. As our considerable professional experience spans domestic and international cases, we are often invited by governmental agencies to help draft or amend legislation.
Legal research projects and proposed amendments to the law
‧ Reform of the legal framework for protecting investors – Using World Bank's appraisal indicators as reference standards
‧ Issues arising from application of regulations to foreign ETF listings in Taiwan
‧ Studies on the regulations governing cultural and creative industries
‧ Studies on the liability of suppliers in government procurement projects
‧ How to streamline the existing foreign investment application process
Human Rights Protection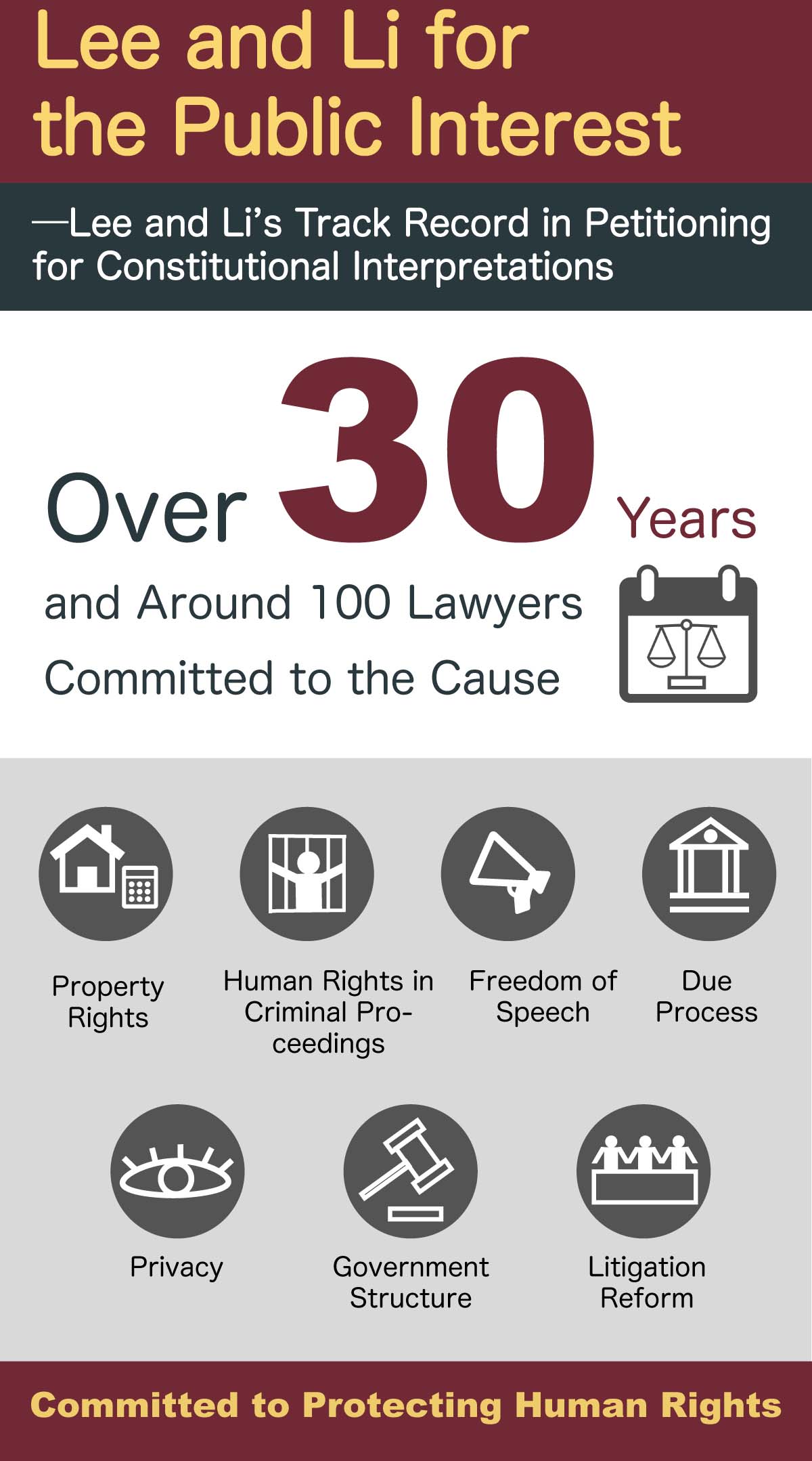 To defend the universal values of human rights and observe the R.O.C. Constitution and international laws, we advocate human rights education and support human rights protection, and have proudly fought in landmark human rights cases on behalf of clients and taken on follow-up work on a pro bono basis.