Local Offices
As Lee and Li has clients in almost every city in Taiwan, in addition to our main office in Taipei, we have offices in other major cities.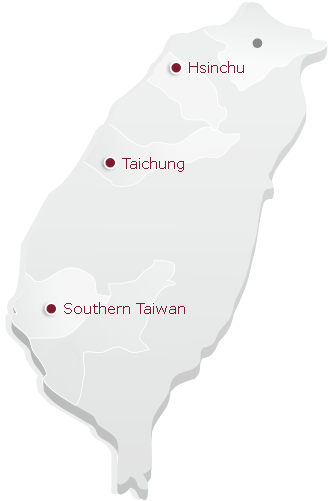 Hsinchu
We established the Hsinchu office in 1996 to provide services in every legal area, especially high-tech-related legal issues. Most clients of our Hsinchu office are technology companies in the Science Park area, which includes the Science Park Administration and the Industrial Technology Research Institute of Taiwan. Because our Hsinchu clients require global legal strategies planning and as the high-tech industry in Taiwan continues to bloom, we take into consideration global legal strategies and transnational legal issues when advising clients.
Taichung
Our Taichung office opened in 2002 to serve clients in central Taiwan. The Taichung office provides comprehensive services, covering public construction, labor relations, intellectual property right management and protection, technology transfer, and licensing of intellectual property rights, banking and capital markets, civil, criminal and administrative litigation, as well as non-litigation matters, such as general corporate legal matters and contract review.
Southern Taiwan
In 2008, our Kaohsiung office, established in 1978, and the Tainan office, established in 2003, were integrated to become the Southern Taiwan office in Kaohsiung. Clients of the Southern Taiwan office include transnational enterprises, public companies, and small- and medium-enterprises, and in particular, companies in the second science park. We provide comprehensive services related to domestic and foreign investment, trademark and patent application, intellectual property right protection, contract drafting and negotiation, and civil, maritime, criminal and administrative matters. An increasing amount of time has been devoted to the companies in the Southern Taiwan Science Park after its establishment. The Southern Taiwan office works with other offices of the firm to provide services to the clients.