Vision and Values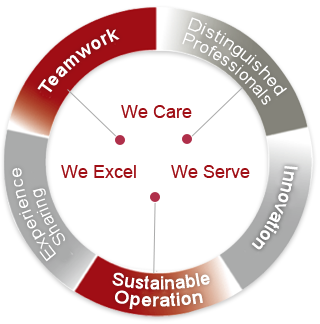 Lee and Li exists to care, serve, and excel. To achieve sustainable operations, we bring together distinguished professionals, create a platform for sharing experience, prize innovation and value teamwork.
To care about the world and the people in it is to respect human dignity and contribute to the economy and social welfare. We aim to promote civil rights, social welfare, industry and economy, and technological advancement through legal services. Lee and Li not only cares about and protects our clients' legal rights, but also strives to achieve excellence in professional knowledge, service quality, leadership and innovation. Operating by the belief of doing well by doing good, Lee and Li has long been the bridge connecting public and private sectors, Taiwan and the international community. On numerous occasions, we have advised the government on vital economic and social policies, and many of our colleagues have worked with the government in drafting new legislation. Lawyers of Lee and Li are proud to have been involved in landmark constitutional litigation and judicial reform.
In addition to providing excellent legal services, we are devoted to pro bono projects. We dedicate all forms of resources for pro bono work through established policies and measures. For decades, our colleagues have taught law at universities in Taiwan and overseas. On June 22, 1999, the Lee and Li Foundation, a non-profit organization devoted to nurturing legal professionals and promoting legal education, was established with donations from our colleagues. To contribute to the society, we are also actively involved in charitable events.
To maintain sustainable operations, our partners affirmed in 2008 the following objectives of Lee and Li:

| | |
| --- | --- |
| Preserve Core Values | Lee and Li's core values are "we care, we serve and we excel." In addition, we are committed to serving as a model of professionalism and pursuing social justice. |
| Commitment to Public Services | Lee and Li cares about humanity and the environment. We uphold corporate ethics and strive to fulfill our social responsibilities. We actively initiate or participate in government research projects, pro bono work, legal aid cases, public donations and charity events. |
| Strict Adherence to Ethics | When handling cases and providing legal services, Lee and Li strictly adheres to the Attorney Regulations Act, Attorney Ethics Rules and all other relevant laws and regulations. |
| Emphasis on Rights of Employees | Lee and Li is attentive towards the rights and work environment of our employees. We ensure that our employees are fairly compensated and enjoy appropriate benefits and rewards. |
| One Team, One Firm | Lee and Li strives to provide clients with the best services amidst an atmosphere of collegiality, teamwork and resource-sharing. |
| Implementation of Specialization | In order to ensure the highest service quality, Lee and Li implements professional specialization for all our cases. |
| Nurturing Talent | In order to maintain sustainable operations, Lee and Li nurtures its quality talent by promoting and encouraging continued legal education and training. |
| Continuous Knowledge Management | Lee and Li implements continued knowledge management, ensuring the sharing of legal knowledge and experiences that serve to foster new ideas. |